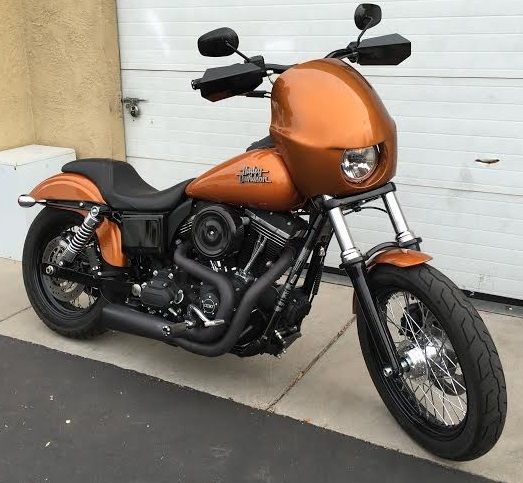 ^^^^^ CHECK OUT JACOB'S RIDE WITH THE NEW 'EVILLE EYE' FAIRING ^^^^^
As of Feb. 2nd 2016 we are shipping Eville Eye fairings within 4 business days
The new Eville Eye fairings are in production and I'm happy to report that we've already got quite a few VERY happy customers using it on their 49mm MidGlide Dynas. I've had so much positive feedback on the wicked look of the new Eville Eye fairing, plus with it being the exact same size as our extremely popular FatBob fairing it not only LOOKS badass - it PERFORMS equally as well by blocking out the upper torso wind blast. With Christmas behind us, now is the time when orders really start piling in for all of our products, so if you're thinking of getting one of these and having it painted before riding season begins... well, you get the drift!!
As of Feb. 2nd 2016 we are shipping FatBob fairings within 4 business days
We are constantly striving to make our products better while keeping the prices steady, as is indicated by the fact that we haven't increased the price on ANY of our products in over 3 years. In fact, we recently made a couple of small upgrades to our FatBob fairing which REDUCED the price because those upgrades made them easier to produce and we're passing those savings on to our fantastic customers - Thats how we roll! Thanks to all for your support of our AMERICAN MADE products!